On Tuesday the 25th of July 2023 at 1 pm, AUCY's President Marc-Antoine Zabbal signed a Memorandum of Understanding (MoU) for an Open Innovation Collaboration with the NCSR Demokritos' President Giorgos Nounessis in Greece.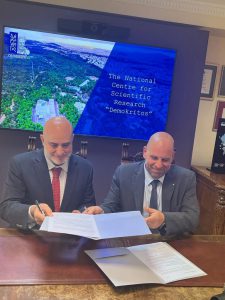 The National Centre for Scientific Research "Demokritos" is a Greek public research organization located in a beautiful pine trees campus in Aghia Paraskevi, Attica and in which research activity is carried out in a wide range of scientific fields,
https://www.demokritos.gr
The researchers of Demokritos' develop research collaborations with research organizations in Greece and internationally as well as research and innovation collaborations with companies and develop significant intellectual property with remarkable potential for commercial exploitation.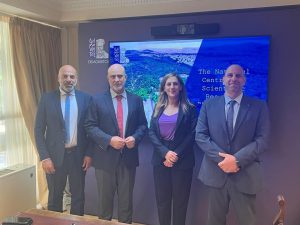 On Wednesday, July 26 Professor Ioannis Michaloudis, Dean of the Faculty of Arts and Humanities at AUCY and Research Associate at the Institute of Nanoscience and Nanotechnology of the NCSR Demokritos, presented his lecture "SkyNanoDesign: Space Era Fractal Nanomaterials in Visual Arts and Design". This lecture is part of the NCSR Demokritos' 29th Summer School "Dynamic Systems and Complexity": Wednesday 26th of July, 15:30-16:30, Building 20; organized by COSA-Net and the Institute of Nanoscience and Nanotechnology.